Magnetic particle testing (MT) method is applicable for surface and subsurface defect detection. MT is used on ferromagnetic materials only.
Defects detected: surface cracks, surface LOFs, inclusions, others surface and subsurface defects and discontinuities.
Magnetic particle testing is performed on welds and parent material of all potentially dangerous installations.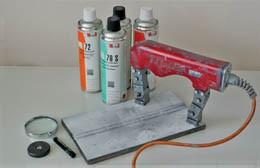 MT standards used: LST EN ISO 17638, LST EN ISO 23278, LST EN 10228-1, LST EN ISO 10893-5, LST EN ISO 9934-1, PNAE G-7-015-89. Other standards can be used upon agreement with customer.
Certified employees: 46 MT level 2 specialists certified according to LST EN ISO 9712.
Testing is performed using hand yokes (Tiede and DME-21C) and MR-Chemie or Pfinder Chemie detection media.